FORS Virtual Christmas Fair
Welcome to the FORS Virtual Christmas Fair!
'Tis nearly the season to be jolly, yet this year has been far less jolly for many people and businesses. To show our support for local businesses, FORS has organised our first Virtual Christmas Fair from Friday 20th (9am) to Tuesday 24th November (12am). You shop from the comfort of your home and help support local and independent businesses.
We have nearly 100 virtual stalls to shop - not only for Christmas gifts but also for items which every home uses, including food, drinks and wrapping paper. Many stallholders are kindly offering an exclusive 10% discount. Please use discount code Reeds10.
In the Sponsor and Advertising Directory you will see details and offers from local businesses. A heartfelt thank you to our main sponsor, Trilogy International, for their generous sponsorship of our fair.
Don't miss the House Charities tab with details of the charities each house supports and the Reed's Movember appeal. Your support and any donations would be greatly appreciated in these tough times. You'll also find the Lower 6 Young Enterprise cookbook on this tab, full of mouth-watering Reed's Recipes.
Finally, please remember to buy raffle tickets for the FORS Christmas Raffle with spectacular prizes to be won, including a £400 John Lewis Gift voucher. The tickets can be purchased by clicking on the Raffle tab or on this link https://www.jumblebee.co.uk/reedsschoolchristmasraffle
THE CHRISTMAS FAIR STALLS HAVE NOW CLOSED, BUT THE RAFFLE REMAINS OPEN AND TICKETS CAN BE PURCHASED UNTIL 3pm ON FRIDAY 4th DEC. THE DRAW TAKES PLACE AT 4pm ON FRIDAY 4th DEC 2020.
Thank you to the stallholders, parents and our sponsor Trilogy International, for supporting our school and our local businesses. Let's help make this season more jolly for everyone.
We wish you and your families a happy and healthy Christmas and look forward to getting together again in the New Year.
RAFFLE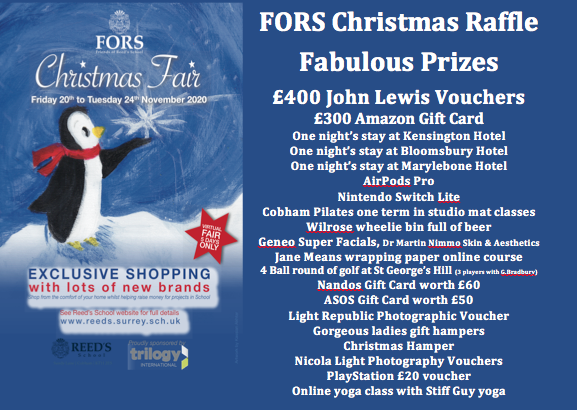 Welcome to the FORS Christmas Fair Raffle!
Thank you to parents and stallholders for your support.
Please click on the link below to buy tickets.
https://www.jumblebee.co.uk/reedsschoolchristmasraffle
The draw will take place at 4pm on Friday 4th December 2020. Ticket sales will close at 3pm on that day.
Amazing prizes to be won including
1st Prize £400 John Lewis Vouchers
2nd Prize £300 Amazon Gift Card
3rd Prize One night's stay at Kensington Hotel (weekend)
4th Prize One night's stay at Bloomsbury Hotel (weekend)
5th Prize One night's stay at Marylebone Hotel (weekend)
6th Prize AirPods Pro
7th Prize Nintendo Switch Lite
Other prizes include:
Cobham Pilates one term in studio mat classes
Wilrose wheelie bin full of beer
Jane Means wrapping paper online course
Geneo Super Facial, Dr Martin Nimmo Skin & Aesthetics (x 2)
4 Ball round of golf at St George's Hill (3 players with G.Bradbury, must have handicap of 18 or under)
Nandos Gift Card worth £60
ASOS Gift Card worth £50
Light Republic Photographic Voucher
Gorgeous ladies gift hampers
Christmas Hamper
Nicola Light Photography Voucher £50 (3 prizes of £50)
PlayStation £20 voucher
Online yoga class with Stiff Guy yoga
and more