The Reed's Community
Back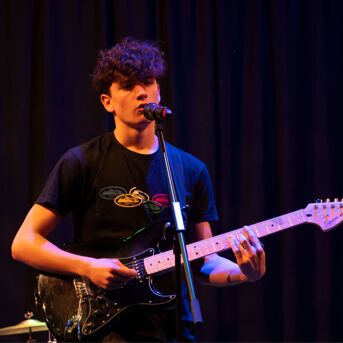 Paul
Lower Sixth Form
Paul is a boarder in the Lower Sixth Form who started at Reed's in the First Form. He embodies the values of our founder, Andrew Reed and takes advantage of every opportunity on offer at the School.
Why did you choose to come to Reed's?
After I attended the open morning, I was overwhelmed by the almost tangible sense of community at Reed's. My family and I loved the fact that the school provided a warm nurturing environment where academic excellence was promoted but not hindered by the pressures of failure. It was evident that teachers were not only passionate about their subjects, but took pride in developing the understanding of their pupils. Also it was very clear that Reed's offered a lot of extra-curricular opportunities in all fields, which would give me the chance to try a lot of new things.
Which teacher has inspired you the most and why?
It's difficult to distinguish who's had the biggest impact on me, because there have been a lot of teachers who have invested so much of their time into seeing me grow as a person. However, the two that immediately stand out are the Housemasters from my first two boarding houses at Reed's, Mr Balls and Mr Haining. Mr Balls was my Housemaster in The Close (First and Second Forms). Having previously come from a day school, the boarding environment was unfamiliar to me and so was the Reed's environment as a whole. He helped my transition into the school run smoothly and always encouraged me to try new things with energy and enthusiasm, many of which have become passions of mine. Mr Haining was my Housemaster from Third form to Fifth form. He encountered me at a pivotal point in my maturing process, where social and academic pressures were becoming more prevalent. He always stressed the values of integrity and resilience, very often through his favourite poem, Kipling's 'If'. Principles that moulded me and allowed me to push through some of the most intense periods of time in my life.
What would you say is your favourite moment so far in your time at Reed's?
Without a doubt the best moment I've had at Reed's was being able to present HM The Queen with a bouquet of flowers at the end of her visit to Reed's during its bicentenary year. Reed's is blessed to have HM The Queen as its patron, through which I had the privilege of meeting her and The Duke of Edinburgh.
Have you enjoyed the boarding experience; what do you think it has given you?
I have loved every minute of my boarding experience at Reed's. Boarding has equipped me with invaluable skills, such as independence, organisation and empathy, which I'm convinced will help me both in my near and distant future. However, my achievements through developing these principles are dwarfed by the value of the relationships I've been able to build with people who I now consider as family. I am certain that the bonds I've formed with members of my boarding house will surpass way beyond my time at Reed's and even be life-long. In addition, boarding has provided me with the opportunity to attend many extra-curricular activities, without fear of taking up too much of my free time, because I haven't had to worry about things like travelling home or meal times.
What advice would you give to a boy about to join Reed's?
To any boy wanting to join Reed's, the best advice I could give you is to approach everything you encounter at Reed's with an open mind-set. The breadth of opportunity, both academically and with the extra-curricular programme, is unparalleled and you will only get the most out of it by pursuing everything with passion and enthusiasm.