The Reed's Community
Back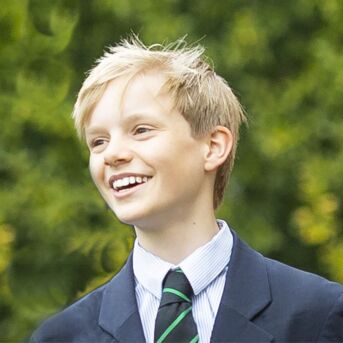 Oscar
First Form Pupil
Oscar is a First Form pupil who has just started his journey at Reed's. He came from a primary school in Richmond and has thrown himself fully into the life of a pupil at the School, especially enjoying all the co-curricular activities Reed's has to offer and the enthusiasm of his teachers.
Why did you choose to come to Reed's?
I chose Reed's because of the amazing facilities, the opportunities I thought I would have available to me and the school's great reputation for sport.
Which lessons do you enjoy the most and why?
My favourite lesson is Science with Mr Rockett - he makes the lessons great fun and has a passion for teaching the subject. One of my favourite things we have done in Science was launching rockets outside at the end of last term. P.E. and games are also favourite lessons because of my love for all sport and the top quality coaching.
Was it easy to settle in and make new friends when you arrived?
Yes, it was. I was the only boy joining Reed's from my primary school and only knew one other boy from my ski club (although not very well at that point). He introduced me to friends from his old school who are now my friends too and I have also made great friends through playing in sports teams (Hockey, Rugby and Cricket) in the First Form.
What co-curricular activities have you taken part in?
I have raced as part of the ski race team in the mountains and on dry slopes. As tennis is one of my favourite sports, I am part of the development squad which trains on Wednesday and Friday after school. In the summer term, I have been doing Athletics training after school on Tuesday. I also learn the guitar and have sung in an amazing concert at Cadogan Hall in London.
What is your favourite thing about Reed's?
Apart from the sausage rolls in the tuck shop, my favourite thing is the sporting opportunities which I think will only get better as I move up through the school.
What advice would you give to a boy who is joining the First Form in September?
Don't be shy to throw yourself in to activities. It's a great way to make new friends and get over any nerves you might feel when joining a new school.