The Reed's Community
Back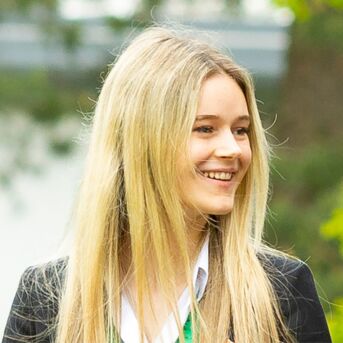 Emily
Lower Sixth Form
Emily is a Lower Sixth Form student who joined Reed's from KGS. An Academic and Music Scholar, she is an accomplished musician, playing the cello and the piano to Grade 8. A member of the Orchestra and the Choir, she is also taking A Levels in German, Biology and Art and hopes to go on to study Architecture when she leaves Reed's.
Why did you choose to come to Reed's?
Well, after being at my previous school for a number of years, I was definitely ready for a change. My brother was already at Reed's and happy from day one. I was given such a warm welcome when I visited the school with him and was taken in by the beautiful grounds, impressive facilities and the very good reputation for food was definitely a bonus!
Did you feel you made friends easily with the other new girls when you first started?
Yes, it was surprisingly easy. There were a number of induction events, from the garden party in June to days out at the end of the summer which helped. Not to say it wasn't a little daunting at the beginning, but the fact that the girls were all new to the Lower Sixth and open to making new friends, meant that we were all in the same boat..
What do you think of the teaching at Reed's?
The teachers are all willing to push you academically in order to reach your potential and will always find extension work in order to keep you engaged and learning. In Art, for example, we aren't allowed to take the easy option - the projects are always very complex and we aim high. However, more importantly, if you are struggling the teachers are more than happy to spend a lunch time or study period with to, to go over something one more time.
Was it difficult fitting in with the boys who were already at Reed's?
At first, I was slightly worried as my classes were quite small, due to the subjects I had chosen and I wasn't sure how I was going to meet people. Thankfully all the boys were really friendly and after a couple of induction days, we all quickly got along and found our feet.
What would you say is your favourite moment so far in your time at Reed's?
My favourite moment would definitely be the concert at Cadogan Hall, which stood out for me. I have played in many school concerts before, but never at such a prestigious location. Also, the variety of music was amazing; from classical to contemporary, which meant that everyone could get involved.
How do you think the co-curricular experience at Reed's has benefited you?
It's a great and easy way to make friends. The variety of activities and sports on offer is just amazing, meaning that there are countless opportunities to try out new challenges. Many of my classes are quite small, so joining in the activities meant I've made many new friends, across the Lower and Upper Sixth with others who share the same interests as me. Although I'm not the sportiest person in the world, having never played netball or cricket before Reed's, the sports teachers have been encouraging and I've had fun being a part of it all.
What advice would you give to a girl about to join Reed's?
Be open to all the opportunities on offer, to help you get to know everyone and make friends quickly. Just have a go at anything you like the sound of and don't be afraid to join in with something new, even if your friends aren't doing the same thing. You'll soon settle in and enjoy being a part of life at Reed's.