FORS Events
FORS organises at least one major social fundraising event each term and has a Facebook page where we share all the information about our events and how we spend the money raised.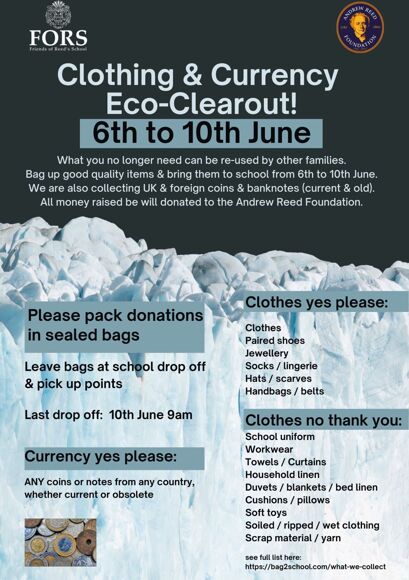 FORS is planning a Clothing & Currency Eco-Clearout Event in aid of the Andrew Reed Foundation and we would love your support!
We will collect items which can be recycled and reused by other families, mainly clothes and shoes (see here for full list) and will raise money for every bag donated.
We are also collecting UK & foreign coins and banknotes (current and old). Apparently there's an estimated £1.8 billion worth of foreign coins and leftover currency in British drawers so please dig it out of your kitchen drawer or piggy bank and turn obsolete or unused coins and notes into a fundraising donation for the Foundation.
The event will run from 6th to 10th June, giving you time to sort and clear out your cupboards! Please pack donations in sealed bags (bin bags are great) and bring to school during this period.
The coins and banknotes must be in a separate bag/envelope. All funds raised will go to the Andrew Reed Foundation.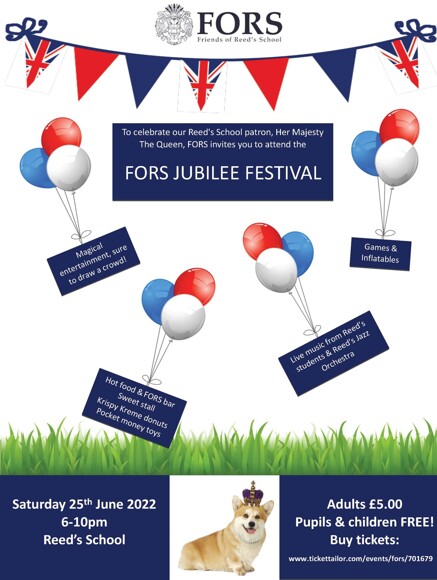 To celebrate Reed's School's patron, Her Majesty the Queen's, 70th Jubilee FORS would love to invite you and your family to attend our Jubilee Festival on Saturday 25th June (from 6pm to 10pm) in the marquee.
Bring the family and enjoy music performed by the Reed's pupils as well as the Jazz Orchestra, treat yourself to delicious food and drinks whilst your children are right royally entertained with games, inflatables and some magical entertainment!
FORS are inviting all pupils and children for free and adult tickets are only £5! When purchasing adult tickets, please indicate how many 'free' children tickets you require, to enable us to estimate numbers. The ticket link is https://buytickets.at/fors/701679
Plus, in the spirit of recycling, if you have any Jubilee-themed decorations or bunting which you no longer require (maybe after a street or garden party), please bring them to Reed's during the Eco-Clearout (6th to 10th June) at drop off or pick up, and FORS will gratefully receive and recycle them! (No balloons, thank you).
AN OVERVIEW OF OUR ANNUAL EVENTS
FIREWORKS
In the autumn term we hold a Fireworks Evening for the whole School. Gates open early so guests can enjoy delicious food from the pop-up food stalls. There is a well-stocked bar along with donuts and candy floss for the children. The finale fireworks display adds to a fun filled evening!
CHRISTMAS FAIR
In late November, the ever-popular Christmas Fair is held in the Sports Hall offering lots of stalls with something for everyone. The Christmas Café serves cakes, mince pies, mulled wine and light refreshments.
QUIZ NIGHT
In the Spring Term, we traditionally hold a Quiz Night. Tables of up to eight parents compete head-to-head in a very enjoyable, but nevertheless toughly fought, contest. This is always a sell-out event so book early to avoid disappointment!
PAMPER & SHOPPING EVENING
A Pamper and Shopping Evening is also held in the Spring Term. A lovely event offering a variety of treatments plus a range of shopping stalls including clothes, accessories and jewellery. Don't miss your glass of prosseco and goody bag on arrival!
SUMMER EVENT
We end the Summer Term on a high with the annual Summer Event. An evening of music, food and fun entertainment held in the Reed's marquee or the beautiful grounds (weather permitting)!
CONTACT US
To contact us, please write to FORS c/o Reed's School or pop a letter in the FORS Box at Reception.