FORS Events
FORS organises at least one major social fundraising event each term and has a Facebook page where we share all the information about our events and how we spend the money raised.
If you missed our very successful 2022 Christmas Fair don't worry - you can still shop from all the wonderful stallholders who came along. Just take a look at our Virtual Programme and shop online!
QUIZ NIGHT 2023
The next event this year is the ever-popular Quiz Night on Sat 4th March which has an 80s theme this year! Tables are for a max of 8 people and tickets are £25 per head which includes a meal and a welcome drink. Always a sell out, make sure you book quickly to avoid disappointment.
To book email forsquiz2023@gmail.com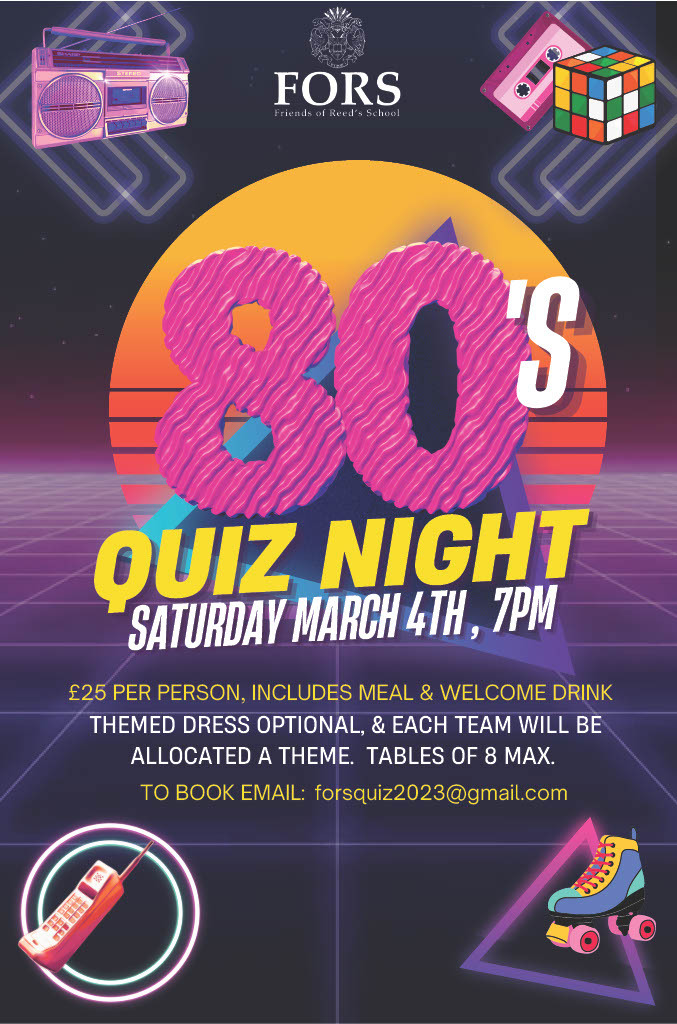 AN OVERVIEW OF OUR ANNUAL EVENTS
BACK-TO-SCHOOL EVENT
In the Autumn term we hold a Back-to-School event for parents. Meet old friends, make new friends and enjoy an evening of fun, food and entertainment.
Tickets usually sell quickly for this one!
CHRISTMAS FAIR
In late November, the ever-popular Christmas Fair is held in the Sports Hall offering lots of stalls with something for everyone. The Christmas Café serves cakes, mince pies, mulled wine and light refreshments.
QUIZ NIGHT
In the Spring Term, we traditionally hold a Quiz Night. Tables of up to eight parents compete head-to-head in a very enjoyable, but nevertheless toughly fought, contest. This is always a sell-out event so book early to avoid disappointment!
PAMPER & SHOPPING EVENING
A Pamper and Shopping Evening is also held in the Spring Term. A lovely event offering a variety of treatments plus a range of shopping stalls including clothes, accessories and jewellery. Don't miss your glass of prosseco on arrival!
SUMMER EVENT
We end the Summer Term on a high with the annual Summer Event. An evening of music, food and fun entertainment held in the Reed's marquee or the beautiful grounds (weather permitting)!
CONTACT US
To contact us, please write to FORS c/o Reed's School or pop a letter in the FORS Box at Reception.