FORS Events
FORS organises at least one major social fundraising event each term and has a Facebook page where we share all the information about our events and how we spend the money raised.
RACENIGHT
To kick off the new school year FORS have organised a back to school event for parents on Saturday 25th September at 6.45pm to 10pm. ALL parents are welcome to attend the FORS Race Night - new, old & past parents! There will be dinner, drinks and virtual races. Lots of fun and a perfect chance to get together with old friends and new.
Tickets are £20 per person which includes dinner and a welcome drink. You can put a table together and sit with friends (10 max) but don't worry if you don't have a group as FORS can place you on a year group table.
You can buy tickets here: https://buytickets.at/fors/577252
Although FORS kept busy organising virtual events last year, this is our first 'live' event in eighteen months due to covid restrictions! We are chomping at the bit to get back in the saddle and bring the Reed's community together for a fabulous night of friendship and fun. All profits from the event will go to fund projects in school which benefit every pupil. Last academic year, FORS funded projects including the new LED screen on the school drive, a Cricket hardware & software training and scoring package, Clickview educational video platform, retractable awning for the 6th form house and a Wellbeing sensory garden designed and created by the pupils.
After purchasing tickets you will receive an email asking about year group preferences for tables and dietary requirements. The event will be held in the Marquee at Reed's.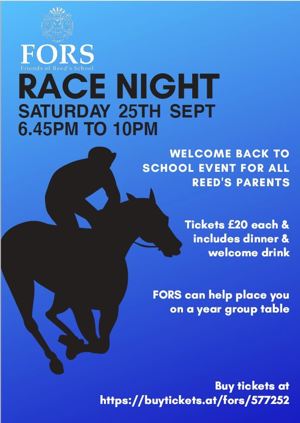 AN OVERVIEW OF OUR ANNUAL EVENTS
At present the COVID situation means that many of our events are either being held in a different way or cannot take place. We very much hope to be able to return to running things normally soon!
FIREWORKS
In the autumn term we hold a Fireworks Evening for the whole School. Gates open early so guests can enjoy delicious food from the pop-up food stalls. There is a well-stocked bar along with donuts and candy floss for the children. The finale fireworks display adds to a fun filled evening!
CHRISTMAS FAIR
In late November, the ever-popular Christmas Fair is held in the Sports Hall offering lots of stalls with something for everyone. The Christmas Café serves cakes, mince pies, mulled wine and light refreshments.
QUIZ NIGHT
In the Spring Term, we traditionally hold a Quiz Night. Tables of up to eight parents compete head-to-head in a very enjoyable, but nevertheless toughly fought, contest. This is always a sell-out event so book early to avoid disappointment!
PAMPER & SHOPPING EVENING
A Pamper and Shopping Evening is also held in the Spring Term. A lovely event offering a variety of treatments plus a range of shopping stalls including clothes, accessories and jewellery. Don't miss your glass of prosecco and goody bag on arrival!
SUMMER EVENT
We end the Summer Term on a high with the annual Summer Event. An evening of music, food and fun entertainment held in the Reed's marquee or the beautiful grounds (weather permitting)!
CONTACT US
To contact us, please write to FORS c/o Reed's School or pop a letter in the FORS Box at Reception.