The Reed's Community
Back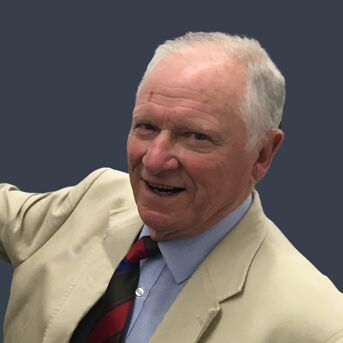 Bill
Old Reedonian
Bill Collins is one of our most loyal Old Reedonians. He attended Reed's during the Second World War when the School was evacuated from Watford to Totnes in Devon, and has the most wonderful memories from that time when all the pupils were Foundationers. After Reed's, Bill went on to have a long and successful career in the oil industry.
WHAT DID IT MEAN TO YOU TO COME TO REED'S?
Joining Reed's as a Foundationer was life-changing for me as war-time Gosport was not a safe place to be. The school gave me stability and a good education. In addition, it made me feel part of a family and I made many friends - some of whom I am still in contact with. The work of the Foundation goes on in great strength and I am reassured that it remains at the heart of what Reed's is to-day.
WHAT ARE YOUR MEMORIES OF LIFE AS A PUPIL AT REED'S?
I joined Reed's at the age of nine in 1941 when the school, having been evacuated from Watford, had established its new home in Totnes. The boarding accommodation had once been a hotel and was situated alongside the River Dart: by todays standards that might not have passed a risk analysis check! The school's routines were well organised but nevertheless, from the age of ten we were allowed 'Free Walks' which meant you were free to explore the countryside and visit the shops. This was a much-valued privilege and so it was a very real punishment to be gated.
I recall the arrival of the US Army in the area – their vehicles, uniforms, accents were so different and for the short time they were there they added glimpses of another culture. The day after D-Day there was not a soldier to be seen and overnight the place seemed eerily quiet.
WHAT SORT OF EDUCATION DID YOU RECEIVE AT REED'S
Considering the school's difficult location and the wartime conditions, the education and sporting achievements were maintained to a high standard. We certainly benefited from having some excellent female teachers who had been recruited to fill vacancies brought about by the war.
HOW DID IT CHANGE WHEN YOU MOVED TO COBHAM?
The school's move to Cobham meant a welcome, but major, change to our lives. The school was now self-contained with proper classrooms, boarding and sporting facilities. Having playing fields within the boundaries of the school was completely new to many of us. As we were near to London it was possible for small groups to be taken to the theatre or concerts. Looking back, a particular benefit to me was Philip Scott's cricket and rugby coaching which engendered my love for both games; that stays with me today.
WHAT BRINGS YOU BACK TO REED'S NOW?
My wonderful memories are the reasons I am drawn back to the reunions we enjoy every year at Totnes. Over the years I have also, when possible, attended the Old Reedonians Reunion Day in the summer and many other special events at the School and The City.