A musical triumph at Cadogan Hall

Posted

- 20/03/2019
Back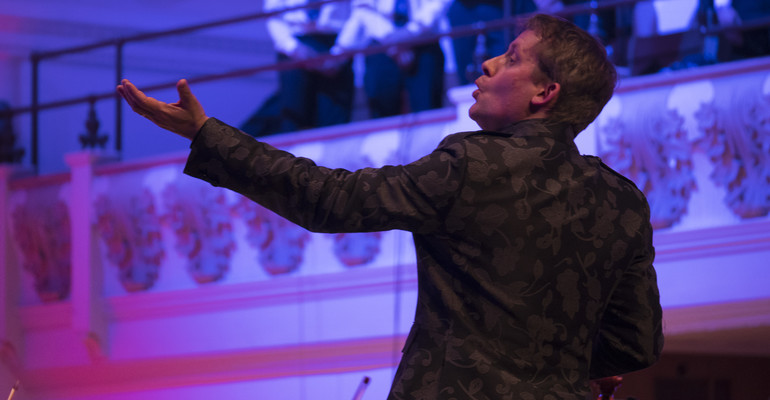 Reed's Orchestra and Choir visited the beautiful venue of Cadogan Hall to perform a variety of musical arrangements in a Gala Concert.
Kicking off, pianist Luca Spadano and the Orchestra stunned with a heavenly rendition of Merry Christmas, Mr Lawrence, composed by Ryuichi Sakamoto. A tough act to follow, yet Owen Price and the orchestra performing George Gershwin's Rhapsody in Blue only impressed further. Both Barney Goodwin's performance of Nikolai Rimsky-Korsakov's Concerto for Trombone and Johnson Li's Clarinet rendition of Concertino by Carl Maria von Weber left the audience in awe of the talent and efforts of the musicians. The last two solely instrumental pieces from Gregor Thomson and Amber Emson demonstrated the range of the musical talents at Reed's. Gregor performed Ney Rosauro's Concerto No.1 for Marimba, an extremely atypical instrument yet something that immediately captured the audience's attention due to its unique sound. Amber then followed with an exquisite violin performance of La Campanella, composed by Niccolò Paganini - a magnificent performance and of such outstanding quality it enlightened both pupils and the audience alike. After this Millie Stokes performed Je Veux Vivre, composed by Gounod, leaving the audience utterly speechless due to her beautiful operatic performance that was backed by the Orchestra. Finishing off the first act of the concert was Electric Sofa, an up-coming band of Upper Sixth Formers, which performed Planet Earth, an original piece composed by band member, Maggie Talibart. The song was even more charming and impressive with the backing of the orchestra, conducted by Maggie herself. Planet Earth was a perfect end to the fantastic first act of the Cadogan Hall concert which left the audience wanting more.
In the second act, the musicians switched up the pace and showcased a fantastic Magical Mystery Tour medley of The Beatles songs with the full choir and various soloists. The medley featured Yellow Submarine, Eleanor Rigby, Sun King, The Long and Winding Road and many other favourites. Although the atmosphere was completely different from the orchestral first act of the concert, the audience was completely engaged. The Beatles themselves even made an appearance - George Sweet, Alex O'Connell, Tim Fortescue and Aron Davies - complete with wigs and outfits from the cover of Sgt Pepper's Lonely Hearts Club Band! The entire stage was full of excitement and singing – a remarkably impressive end to a night packed with all genres of music and various instruments. The musicians' hard work paid off and resulted in an enjoyable evening for all.
Ava Morrison, Lower Sixth Form