An inspiring evening at our FutureUni Seminar on Classics and Philosophy

Posted

- 12/03/2019
Back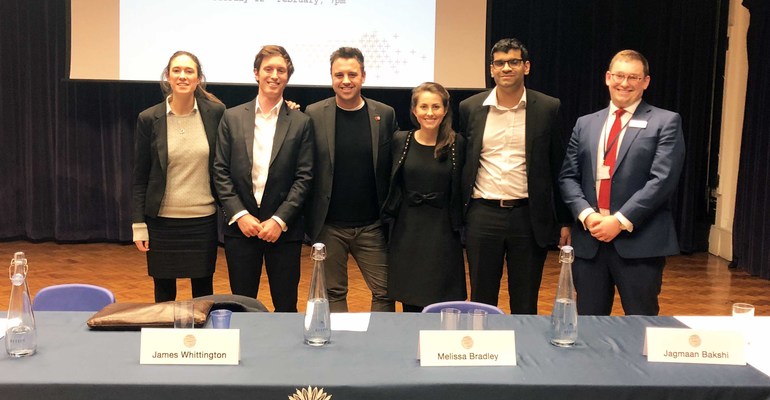 Four professionals with degrees in either Classics or Philosophy addressed pupils about the value of such a degree in their respective fields of work at the FutureUni Seminar on Classics and Philosophy.
Two of these individuals were Old Reedonians – Jagmaan Bakshi (Capel 2014) and Ali Rowley (Bristowe 2008). Jagmaan spoke about how his degree in Philosophy led him to pursue law, and focused on the lateral-thinking skills he developed which gave him a head start in his profession. Ali entertained the crowd with stories of his work in the film industry and explained how the breadth of his Classics degree routinely impressed employers, and prepared him well for his current job in content strategy where he works for the government in anti-terrorism.
Melissa Bradley spoke about her educational journey in relation to her Philosophy degree at Duke University, North Carolina. She explained how she found the skills gained invaluable in her career thus far – working as a consultant for Deloitte – and in her pursuit of an MBA at London Business School. Finally, James Whittington told the audience about his career in a variety of financial institutions from KPMG to Merrill Lynch to investment managers, CBPE. James described how his degree in Classics perfectly armed him for the financial world, particularly in regard to the logical thought he developed and the range of skills he gained in such a multi-faceted degree.
The consequent plethora of questions from pupils and parents was testament to the quality of all four speakers. From the Fourth to Lower Sixth, all came away inspired and motivated to consider how an A Level or degree in one of these subjects could prepare them for a huge variety of careers.
Kate Morland, Head of Classics and Ed Swift, Head of Philosophy & Religion