Third Form go back to the 80s in an impressive Synth Show

Posted

- 24/01/2019
Back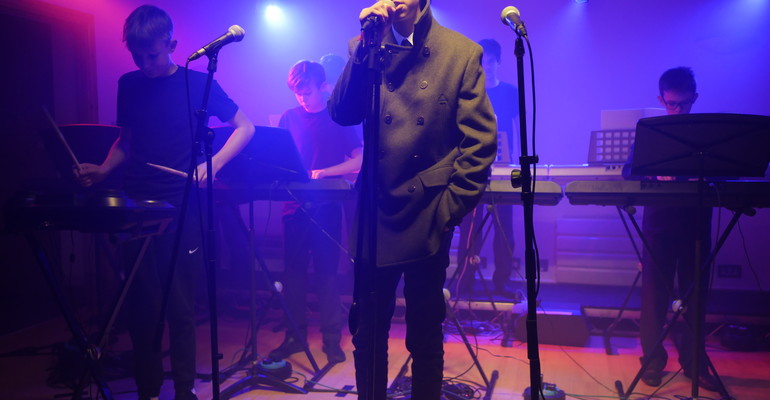 The 80s really has to go down as the most diverse, eclectic and extravagant decade in recent cultural history; Third Form musicians at Reed's brought back to life that glorious decade of new wave music and, most specifically, its sub-genre of synth-pop in their Synth Show.
The first half, 'Acoustic Dreams', saw 10 superb and diverse acts fill the room with much energy and some really impressive instrumental talent on the flute, saxophone, piano, violin and trumpet as well as some strong vocal performances. The first half ended with a classy version of Rick Astley's iconic contribution to the pop world, 'Never gonna give you up' which warmed the audience up nicely for the 80s extravaganza that awaited them.
The second half was indeed an epic blast from the past with the Third Form taking a nostalgic run through the glorious days of 80s pop, featuring some of the top talents of that era. All of the performers excelled themselves. Fabulous performances of Gary Numan's 'Airline' and 'Cars', 'Being Boiled' by Human League, Soft Cell's 'Tainted Love' and 'Torch' along with Space's 'Magic Fly', New Order's 'Blue Monday' and The Pet Shop Boys' classic 'West End Girls' shared the limelight. Many of those in the audience were clearly waiting for Depeche Mode's 'Just Can't Get Enough' finale - reincarnated by our Third Form musicians who successfully combined melodious keyboard playing with some really impressive vocals in this final act of the evening.
This proved to be an exceptionally well-chosen collection of gems in a decade when classic synth-pop music anthems were crafted; these were very finely showcased by our talented bunch of Third Form musicians.
Helen Salford, Head of French